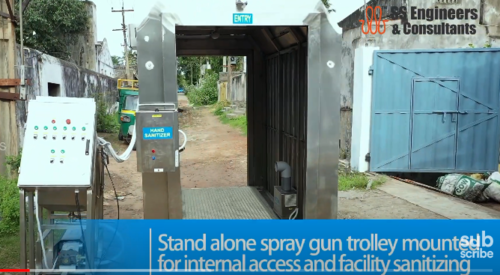 Disinfection Tunnel
Product Description
Disinfection Tunnel
Ss Engineers and Consultants offer a wide range of tunnels for sanitizing / disinfection. Especially used previous entrance to the cleanroom or high-risk areas, these disinfection tunnels can be adapted at places where the air infection levels are very high.
The innovative system has many advantages, highlighting the drastic reduction in the consumption of water and disinfectant, up to 15 times compared to a traditional spray disinfection system.
Moreover, misting guarantees a uniform distribution of the disinfectant / sanitizing agent across the inner surface of the tunnel for the person to be treated in the high-risk zone.
Keep your loved ones safe COVID-19
Viruses and bacteria can contaminate the air and linger on surfaces for many days – Hand sanitizers; hand washing will only reduce partial risk and provide only temporary protection. At SS Engineers we offer Tunnel Disinfection System to provide complete body protection (long term protection) from infections and viruses.
https://www.ssengrindia.in/industrial-washing-equipments.html
Youtube: https://www.youtube.com/c/SSEngineers...