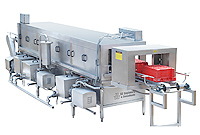 Hygienic crate washer
Product Description
SS Engineers Crate Washing Equipment servesthe needs in Bin Cleaning & Drying for regularly used at factories. SSEngineers Bin Cleaning machine comes in different sizes, designs to suitindividual washing needs. The High-pressure machine cleans the Bins from Dirt,Oil, Grease and other contaminants. The machine is offered with a variablespeed conveyor which can be regulated as per the cleaning need. TheMachines is equipped with a detergent wash zone and Hot water wash zone toachieve a superior cleaning result. The high pressure jetting pumps areequipped with 80 nozzles having 360-degree orientation suitable to handledifficult cleaning areas.
The ranges of machines dealt with by SS Engineers are asfollows:
Industrial Crates, Bins, Tubs, Buckets, Barrels washingsystems.
Industrial parts cleaning (Ultra-sonic),
Fruits & Vegetables cleaning & processing line,
Industrial sanitizing machines, steam washing machines.
Hot air drier & Air Knife systems with conveyors
Material Handling Conveyors, Belt, Chain, and Rollertypes.
Cleaning in Place System.
https://www.ssengrindia.in/crate-washer.a
https://youtu.be/l8guot2HrNA